Curriculum Vitae for Kevin McMillan
"Kevin McMillan has enjoyed a performing career to which only the select elite of Canadian singers have aspired and fulfilled. His résumé is replete with international performances, recordings, and awards, performances in some of the world's greatest venues and with some of the greatest artists of our time.
Mr. McMillan's encyclopedic recall, and his knowledge and instincts regarding performance practice and interpretive possibilities are extensive, laudable, and reveal his tremendous talent. He has so much to share with students in his charge, and he does so with intense dedication."
Dr. Darryl Edwards, Head of Voice Studies,
Faculty of Music, University of Toronto

Birthdate: 17 April 1958

Birthplace: Listowel, Ontario, Canada

Citizenship: Canadian

Languages: English, German, French
Doctor of Musical Arts (incomplete) - 1986
The Juilliard School
New York, New York, USA

Master of Music - 1985
The Juilliard School
New York, New York, USA

Honours Bachelor of Music in Vocal Performance - 1983
University of Western Ontario
London, Ontario, Canada

Summer programs - 1991, 1982
The Britten-Pears School for Advanced Musical Studies
Aldeburgh, UK

Bachelor of Science in Agriculture (incomplete) - 1977-1979
University of Guelph
Guelph, Ontario, Canada
Teaching Experience
READ MORE
Associate Professor of Voice
School of Music, James Madison University
Harrisonburg, VA
2009 – present
Masterclass at the Staunton Music Festival 'Springfest'
2010

Masterclass at the Staunton Music Festival
2009
Adjunct Professor of Voice
Don Wright Faculty of Music,
University of Western Ontario
London, Ontario
1998 – 2009

Private students
1988 – Present

Adjudicator, Conservatory Canada Examinations
2003 – present

Masterclasses, University of Manitoba
2009

Adjudicator, Burlington Rotary Music Festival
2007

Adjudicator, Winnipeg Music Festival
Winnipeg 2005

Adjudicator, Niagara Falls Kiwanis Music Festival
Niagara Falls 2004

Clinician, First Annual Don and Lillian Wright National Vocal Masterclass
London, Ontario 2003

Masterclasses, University of Windsor
Windsor, Ontario 2003

Artist in Residence, Memorial University, Newfoundland
St. John's, NL 2003

Clinician, Ontario Registered Music Teacher's Conference
Timmins, Ontario 2002

Masterclasses, Victoria Conservatory of Music
Victoria, British Columbia 2002

Masterclasses, San Diego State University
San Diego, California 2000

Masterclasses, Queen's University
Kingston, Ontario 1999

Masterclasses, University of Saskatchewan
Saskatoon, Saskatchewan 1998

Masterclasses, University of Alberta
Edmonton, Alberta 1998

Masterclasses, Bishop's University
Lennoxville, Quebec 1998

Masterclasses, University of Manitoba
Winnipeg, Manitoba 1997

Masterclasses, Guelph Spring Festival
Guelph, Ontario 1997

Masterclasses, Mt. Royal College
Calgary, Alberta 1996

Masterclasses, Alberta College
Edmonton, Alberta 1996

Masterclasses, University of Regina
Regina, Saskatchewan 1996

Masterclasses, Brandon University
Brandon, Manitoba 1996

Masterclasses, Lakehead University
Thunder Bay, Ontario 1996

Masterclasses, University of North Dakota
Grand Forks, North Dakota 1996

Masterclasses, University of Western Ontario
London, Ontario 1992 – 1996

Examiner, Western Ontario Conservatory of Music
1992 – 1998

Juror, CBC Radio Competition for Young Performers
Ottawa, Ontario May 1995

Juror, Masterclasses, CIBC National Festival of Music
Calgary, Alberta August 1995

Masterclasses, Memorial University
St. John's, Newfoundland 1993
Canada Council Artists in Mid-career Grant
2000 – 2001

Canada Council Career Development Grant,
1986 – 1990

Canada Council Arts Grants "B",
1983 – 1986

Full Tuition Scholarship, The Juilliard School,
1986

Chalmers Fund Grant, Ontario Arts Council,
1983
Queen's Golden Jubilee Medal, 2002
For outstanding public service to the Municipality of Chatham-Kent, Ontario in honour of the Golden Jubilee of Queen Elizabeth II

Licentiate in Music, Honoris Causa 2002
Conservatory Canada, London, Ontario

JUNO Award Nomination, 1998 NAC Recordings - Exquisite Fires
Bouchard: Songs for an Acrobat
National Arts Centre orchestra, Conductor: Trevor Pinnock

JUNO Award Nomination, 1996
Dorian Recordings - Bach: Secular Cantatas
Les Violons du Roy
Conductor: Bernard Labadie

JUNO Award Nomination, 1994
Marquis Records - Schwanengesang - Franz Schubert
Lev Natochenny, piano

Grammy Award, 1992
London/Decca recording - Carmina burana - Carl Orff
San Francisco Symphony and Chorus
Conductor: Herbert Blomstedt

JUNO Award Nomination, 1992
CBC recording - "Lieder on Poems of Heinrich Heine"
Michael McMahon, piano

Gramophone Award, 1991
London/Decca recording - Nielsen, Symphonies Nr. 2 and 3
San Francisco Symphony,
Conductor: Herbert Blomstedt

JUNO Award Nomination, 1989
Marquis Records - "Songs of Britten and Vaughan Williams"
John Greer, piano
Richard Miller
2002 - 2008

Diane Forlano
2000 - 2002

Lorna Haywood
1989 - 1999

Ellen Faull
The Juilliard School, 1985-1989

Daniel Ferro
The Juilliard School, 1983-1985

Martin Chambers
University of Western Ontario, 1979-1983

Alvin Reimer
University of Western Ontario, 1979-1981

Elizabeth Peters
University of Guelph, 1977-1979
Richard Miller
Vocal Technique and Pedagogy, 2000

Greta Kraus
German Lieder, 1986

Elly Ameling
German Lieder, 1984

Marguerite Meyerowitz
French Chanson, 1983 – 1986

Madeleine Marshall
English Diction, 1984

John Shirley-Quirk
English Song, 1981

Elisabeth Schwarzkopf
German Lieder, 1982

Sir Peter Pears
English Song and Oratorio, 1981 – 1982
Gabriel Dobner
Virginia

Margo Garrett
New York

John Greer
Toronto/Virginia, MD

Andreas Haefliger
New York

John Hess
London, ON

Angela Hewitt
London

Leonard Hokanson (deceased)
Bloomington

Warren Jones
New York

Martin Katz
Ann Arbor

Michael McMahon
Montréal

Jon Kimura Parker
New York

Rena Sharon
Vancouver

Paul Stewart
Montréal
Collins Classics – Sir Peter Maxwell Davies: Job
CBC Vancouver Orchestra, Vancouver Bach Choir
Conductor: Sir Peter Maxwell Davies

CBC Records – Schubert: Songs and their Transcriptions
Paul Stewart, piano

NAC Recordings – Exquisite Fires
Bouchard: Songs for an Acrobat
National Arts Centre orchestra, Conductor: Trevor Pinnock

Prague Autumn Recordings – Mendelssohn: Elias
Prague Symphony and Chorus, Conductor: Isaiah Jackson

Marquis Classics – Schubert: Schwanengesang, D.957 and Lieder
Lev Natochenny, piano

Dorian Recordings – J.S.Bach: Secular Cantatas
Les Violons du Roy, Conductor: Bernard Labadie

Dorian Recordings – Schubert: Die schöne Müllerin
Warrren Jones, piano

CBC Recordings – Lieder on poems of Heinrich Heine
Michael McMahon, piano

Chandos – Arnold Schoenberg: Ode to Napoleon, op.41
I Musici de Montreal, Conductor: Yuli Turovsky

Deutsche Harmonia Mundi – Brahms: Ein deutsches Requiem
Freiburger Bachchor, Freiburger Bachorchester, Conductor: Hans Michael Beuerle

Pro Arte – Brahms: Four Serious Songs (orch. Leinsdorf)
San Diego Symphony, Conductor: Yoav Talmi

IBS – Amabile Singers with guest Kevin McMillan
Conductors: John Barron, Brenda Zadorsky


London/Decca – Orff: Carmina burana
San Francisco Symphony Orchestra and Chorus, Conductor: Herbert Blomstedt


London/Decca – Nielsen: Symphony #3 "Espansiva"
San Francisco Symphony, Conductor: Herbert Blomstedt

Marquis Records – Kevin McMillan, baritone; Songs of Britten and Vaughan Williams
John Greer, piano
Founder and President
Chatham Capitol Theatre Association, Inc.
Chatham, ON
1996 – present

Secretary and Founding Member
Chatham-Kent Festival
Chatham, ON
2000 - present
Television Specials
READ MORE
Eric Carle Production
Mozart - The Magic Flute (role of Papageno) 2001
Springfield Symphony and Chorus, Conductor: Mark Russell Smith
PBS Television Broadcast


"Canada 125 Super Concert"
CBC Television Special for Canada's 125th Anniversary, 1992
Olympic Stadium Montreal


"The Music Must Go On"
Profile: Kevin McMillan
CBC Sunday Afternoon Arts and Entertainment 1990
Narrator: Veronica Tennant


"Canada Day Celebrations with Queen Elizabeth from Parliament Hill"
CBC Television Special for Canada Day 1990


"Handel's Messiah"
CTV Special with the Edmonton Symphony for Christmas 1990
Edmonton, Alberta
Oratorio Society of New York Competition
Carnegie Hall
New York, NY
1985
2nd Prize

D'Angelo Young Artist's Competition
Erie, Pennsylvania
1985
2nd Prize

Juilliard Student Concerto Competition
New York, NY
1985
Performance of Berlioz' Les nuits d'été
Alice Tully Hall

CBC Radio Competition for Young Performers
Montréal, Québec
1987
2nd Prize

National Vocal Competition
Guelph Spring Festival
Guelph, Ontario
1987
1st Prize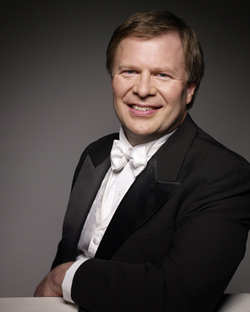 Career Highlights
North American Premiere 1998
Glass - Songs of Milarepa
Scotia Festival Orchestra, under the Artistic Direction of Phillip Glass
London Premiere, Barbican Center, London, UK 1997
Maxwell Davies - Job
City of London Sinfonia, BBC Singers, Conductor: Richard Hickox

American Choral Director's Association Convention 1995
Orff - Carmina burana
National Symphony, Washington, Conductor: James Paul
Los Angeles Philharmonic Debut, 1994
Haydn - The Seasons
Los Angeles Philharmonic Orchestra, Conductor: Roger Norrington
German Tour - Easter 1993
Penderecki - St.Luke Passion, Conductor: Krzysztof Penderecki
Schleswig-Holstein Musik Festival-Tour, 1992
Vilnius, Berlin (Open-Air for 70,000), Flensburg, Hamburg, Dresden
Orff - Carmina burana, Conductor: Justus Frantz
Recital Debut, New York, Kaufmann Concert Hall, 1991
Schubert - Die schöne Müllerin, Warren Jones, piano
Germany, France, Spain Tour, 1990
Bach - Matthäus-Passion
Internationale Bachakademie Stuttgart, Conductor: Hellmuth Rilling
Recital Debut, Wigmore Hall, London 1990
John Greer, piano
New York Philharmonic Debut, 1990
Mendelssohn -Elijah, Conductor: Kurt Masur
San Francisco Symphony Debut and Decca recording, 1989
Orff - Carmina burana, Conductor: Herbert Blomstedt